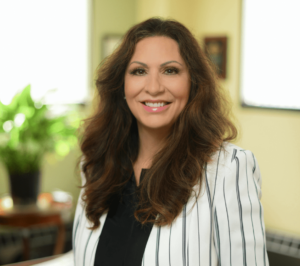 Dr. Maria Ryan is an intelligent person with a brilliant perspective to solving today's issues. She hosts a cutting edge radio show with a diverse listenership. TV and radio show hosts call on her to comment on current events, domestic and foreign policy, and healthcare. She speaks nationally and internationally on these subjects as well.
She also leads an innovative communication company. Friends and employees talk about Dr Ryan's unique ability to relate to all people despite different backgrounds.
An inspirational leader in healthcare she accomplished business initiatives that didn't seem possible. She is known for her high-integrity, energetic leadership, and the ability to envision and create successful outcomes in complex situations. Dr. Ryan has diverse healthcare and functional expertise, with a tenacious commitment to driving results and motivating staff to peak performance. She achieved a doctorate in healthcare administration and holds a master's degree in the science of nursing. Dr. Ryan is board certified as a Family Nurse Practitioner (an independent provider) with a specialty in Emergency Medicine.
Dr. Maria Ryan has a distinguished career in for-profit, non-profit, tertiary care and, most recently, a critical access hospital. She has been the driving force behind Cottage Hospital's many accomplishments such as being honored by the Norris Cotton Cancer Center at Dartmouth-Hitchcock Medical Center for taking a leadership role in a collaborative outreach program centered on cancer prevention and early detection. Cottage Hospital has received national awards such as a 2013 HealthStrong Award for Excellence in Efficiency, a 2014 HealthStrong Top 100 Critical Access Hospital by iVantage Health Analytics, and a Top 20 Best Practices in Quality designation by the National Rural Health Association. With Dr. Ryan's leadership, Cottage Hospital was also the only hospital in New Hampshire, and one of eight in the country, to successfully attest to Meaningful Use Stage 2 in the first qualifying period. Additionally, Cottage Hospital was the recipient of the 2015 Business of the Year Award given by the Cohase Chamber of Commerce.
Dr. Ryan has been recognized on a national level as well. She was selected in Becker's Hospital Review's list of "Top 50 Rural Hospital CEOs to Know" in the United States for years, 2014, 2015, 2016, 2018, 2019, 2020, and 2021 as well as one of the "Top 60 Rural Hospital CEO's to Know" in 2017. Amongst all hospitals, regardless of size, Dr. Ryan was identified again by Becker's Hospital Review as one of "300 Hospital and Health System Leaders to Know" as well as, named one of "183 Nonprofit Hospital and Health System CEO's to Know 2017". She was selected as one of NH Business Review's Outstanding Women in Business 2017. Most recently, she received the Louis Gorin Lifetime Achievement Award for Excellence in Rural Health by the National Rural Health Association in 2019.
Under Dr. Ryan's leadership, Cottage Hospital opened a 10-bed distinct part unit providing acute geriatric psychiatric care, which served NH, Maine, Massachusetts and Vermont. She noted a gap in specialized acute care and became a referral center for a region. Dr. Ryan helped to solve a dire issue in her rural community by erecting the Rowe Health Center in 2015, and as a result, strengthening the primary care network in her service area by providing endocrinology, gastroenterology, internal medicine, mental health, orthopedics, and podiatry. Dr. Ryan is a fierce defender of patient rights, and she eliminates all barriers for those who are seeking healthcare. Her secrets to success are simple: be transparent and passionate, have enthusiasm and insight, listen well and be visible.
Over the last several years Dr. Ryan has been asked to speak at the following various healthcare conferences: Dartmouth-Hitchcock Perioperative Conference, Lateral Violence Amongst Nurses, 2009; New England Alliance for Health , Five Pillars to Success, 2011; Hospital Outpatient Payment Panel with Senator Shaheen, 2014; Becker's Hospital Review, Key Steps to Improve and Measure Clinical Outcomes, 2014; The Nashville Experience, Trends and the Future of Specialized Healthcare, 2015; Becker's Hospital Review CEO & CFO/CIO Roundtable, Improving EMR Usefulness, 2015; Becker's Hospital Review CEO & CFO Roundtable, Key Thoughts on How Small and Midsize Hospitals Can Deliver Great Quality and Thrive, 2016; and Becker's Hospital Review 8th Annual Meeting panels Where Our Independent Hospital Needs to Be in Five Years and Key Strategies and Issues for Rural Hospitals, 2017; St. Anselm College Women in Healthcare panel, 2017; McClane Middleton's What's Her Story, 2017; Lisbon Regional High School National Honor Society Induction Ceremony, 2017; AHA Regional Policy Board Meeting, Washington, DC, 2017; Granite State College Beyond Gender: Essential Leadership Qualities Lecture, 2017; Becker's Hospital Review 6th Annual CEO/CFO Roundtable, How Small and Midsize Hospitals Can Thrive and Deliver Great Quality, 2017; and Becker's Hospital Review 8th Annual CEO/CFO Roundtable, New Ideas in Healthcare Reform, 2019.